Ultimate Guide to Furoshiki Gift Wrap
In Japan, from childhood we have been playing with handkerchiefs, folding origami, and wrapping lunch boxes, and so on. It is our Japanese culture that we learn to make some form with a flat cloth without even knowing it. Personally, I was surrounded by beautiful colourful rolls of cloth as my grandmother was a Japanese dressmaker who sewed Kimonos. Furoshiki was a part of my life that was used to stored or carried Kimonos.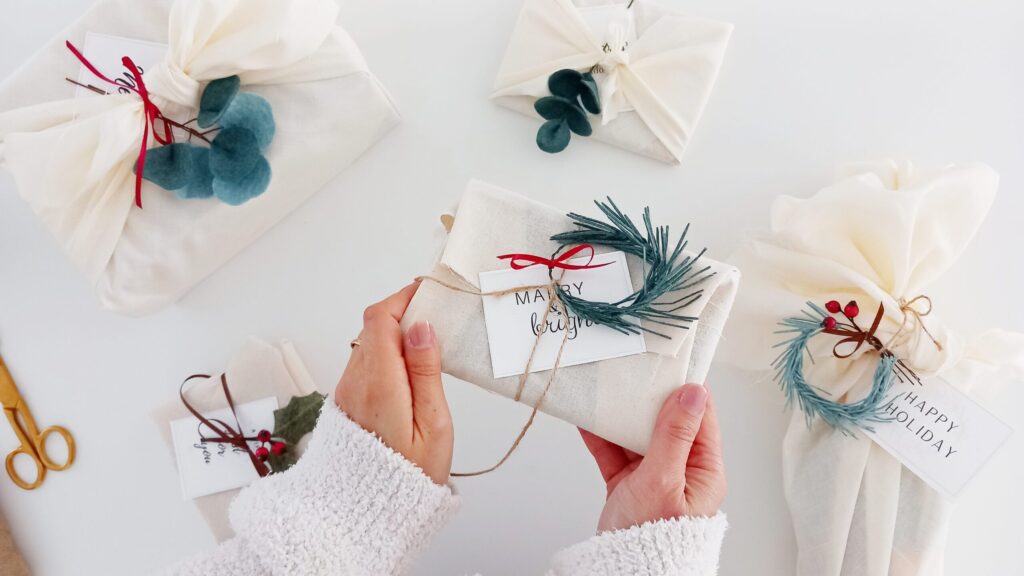 "Furoshiki" are square shaped cloths used in Japan to wrap items and carry them. Although it is hard to know exactly when Furoshiki became part of Japanese culture, but it is believed that it has been around more than 1200 years.
In ancient times, a cloth called "Hira-wrap" was used for storing emporor's treasures. The cloth was made specifically for the items to be stored. This was the birth of cloth as a "wrapping material. The cloth can be used to wrap square, round, or long and thin objects without limitation of shape, and can be used over and over again.
A single piece of cloth can tell a story about the Japanese spirit and mentality of being flexible, ingenious, and careful in the use of things. The name of "Furoshiki" (wrapping cloth) was born when it was used to wrap and carry bath accessories such as hand towels, scrubbing cloths, pumice stones, and nuka bags, as well as to wrap undressed clothes and prepare oneself after taking a bath. In this way, the Furoshiki became a daily commodity for the common people.
Why is Furoshiki attracting attention now?
Expressing the spirit of "mottainai" which means "valuing things"
Realising the 4 "Rs" of environmental protection – Reduce, Reuse, Recycle, Respect the Resources
Handling important things with care
Furoshiki is an excellent item that can be easily and neatly wrapped and it conveys the "consideration" put into time and effort. It is from the heart that you want to please your recipient. In the old days when paper itself was precious, so Furoshiki was the leading role for wrapping. Since the times have changed, and now we live in a world where you don't have to struggle to "wrap". If you have a plastic bag or paper bag, you can easily and conveniently wrap it.
Furoshiki Eco-wrapping, which is friendly to the environment and sustainable living idea, is now starting to attract attention around the world. Once again, why don't you review the habit of "one-time use and disposable" that has become common sense? A little kindness and thoughtfulness is what the planet needs right now. Precisely because of such an era, I want to deliver a consideration that takes a little time.
How to Style -
3 different ways of Furoshiki Gift Wrap
In this video, I'm showing 3 easy ways of Furoshiki wrappig. Even if it's not a "wrapping cloth", but a cloth or dishcloth, "thing that can be wrapped", stock it up. Not only from an eco-friendly point of view, but I think that the "Furoshiki" that wraps the gift will be just as happy as the gift itself.
This holiday season, revisit unused fabric to create a unique, elegantly wrapped present.